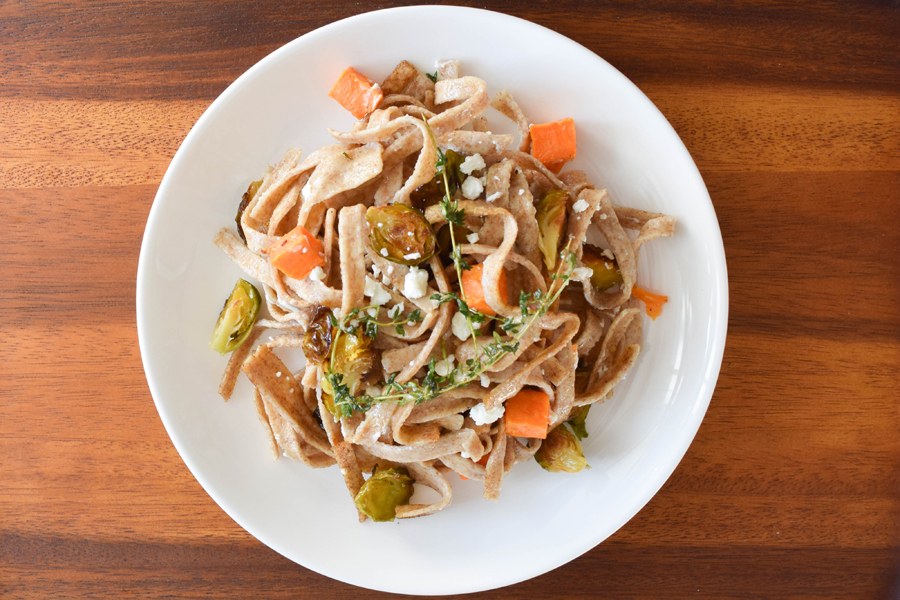 As a rebellious teenager, I did a stint as a vegetarian. This was quite the scandal in my Northern Irish meat-and-potatoes family. While I scarfed down what my dad called "rabbit food," I couldn't help but miss the substantial chew of a steak or the hearty stick-to-your-ribs quality of a properly meaty pasta sauce. However, in my many recipe tests, I created a pasta dish that nearly soothed my craving for meat. To achieve a sensation similar to the wonderful crustiness of a perfectly seared steak, I roast chunks of Brussels sprouts and sweet potato until they are browned and slightly crunchy. For the sauce I infuse brown butter with garlic and thyme. The thyme has such a nice woody flavor to it – it makes any sauce heartier. Toss the veggies and sauce with some whole wheat pasta and even the most dedicated carnivore is satisfied!! You can even add a little goat cheese for extra creaminess! I always do!
Fall Vegetable Pasta with Garlic and Thyme Brown Butter
Serves 2
Ingredients
1/2 cup of sweet potato, cut into small cubes
1/2 cup of Brussels sprouts, halved or quartered depending on their size
1 tablespoon of olive oil
8 ounces of whole-wheat noodles (I used fettuccine)
3 tablespoons of butter
3 sprigs of thyme
1 clove of garlic
1/4 cup of goat cheese, crumbled
salt and pepper
Directions
Preheat the oven to 350° F.

Toss the sweet potato and Brussels sprouts with the oil and season with salt and pepper. Spread the vegetables on a sheet tray in one even layer.
Place in the oven and roast for 45 minutes to an hour, tossing every 20 minutes, until the vegetables are crispy and browned.
Cook your pasta per package instructions.
While the pasta is cooking, start the sauce.
In a medium sized skillet, melt the butter and add the thyme sprigs and whole peeled garlic clove. Cook the sauce while moving the garlic and thyme with a spoon.
The sauce is ready when the butter is lightly browned and the garlic smells fragrant, about 5 minutes. Remove the garlic and thyme. You can reserve the thyme for a garnish.
When the pasta has finished cooking, drain it. Add the pasta straight to the pan of brown butter sauce and toss. Add the vegetables and goat cheese. Toss to combine.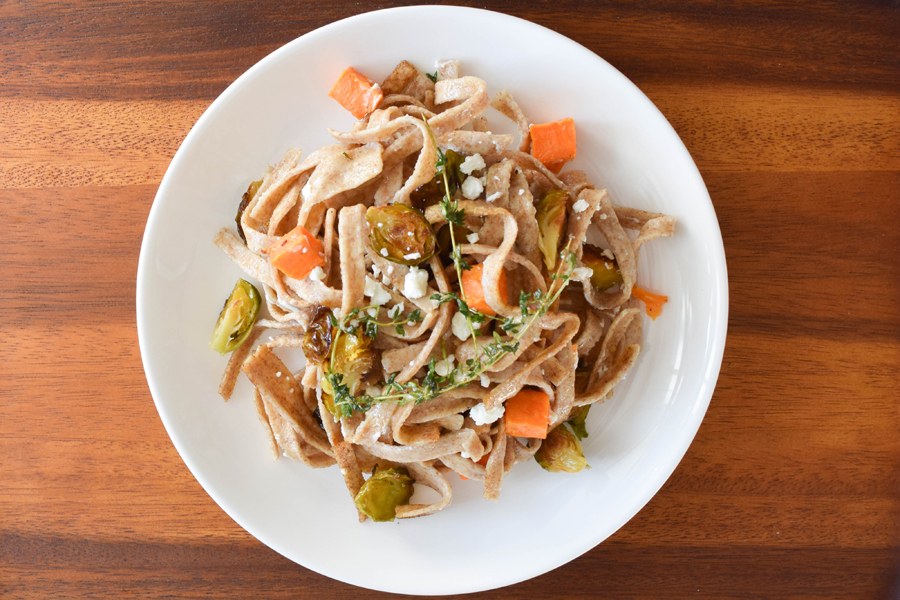 Serve immediately!