Cherry Almond Crisp is a celebration of late summer cherries that are at peak sweetness during their short August season. The bubbling filling has both fresh cherries and dried tart cherries for a contrast of texture and flavor. The oat crumb topping is given extra crunch and subtle nuttiness from the addition of sliced almonds. Serve this crisp warm from the oven with vanilla ice cream for a summery dessert or enjoy the next day as a decadent breakfast with a splash of milk. Either way, you can't go wrong.
Time: 1 hour 30 minutes
Serves: 6 – 8
Ingredients:
3/4 cup of all-purpose flour
3/4 cup of old-fashioned rolled oats
1/2 cup of light brown sugar
1/4 cup of sliced almonds
1/2 teaspoon of salt
5 tablespoons of butter, melted
5 cups of fresh cherries, destemmed and pitted
1 cup of dried tart cherries
1/2 cup of sugar
3 tablespoons of cornstarch
1 teaspoon of salt
1 teaspoon of cinnamon
Directions:
Measure out all ingredients. To prepare fresh cherries, rinse well, dry them then pluck all the stems off and remove the cherry pits. If you don't have a cherry pitter, run a paring knife around the circumference of the cherry and twist the two halves apart. Using your nail, pop out the pit and discard.
Preheat your oven to 350°F and butter a 9-inch baking round.
To make the crumb topping, whisk the flour, oats, brown sugar, almonds and salt together in a medium-sized bowl.
Drizzle the melted butter over the oat mixture and stir until all the dry ingredients are coated with butter and small clumps form. Set aside.
Next, make the filling. In a large bowl, mix the fresh cherries, dried cherries, sugar, cornstarch, salt, and cinnamon.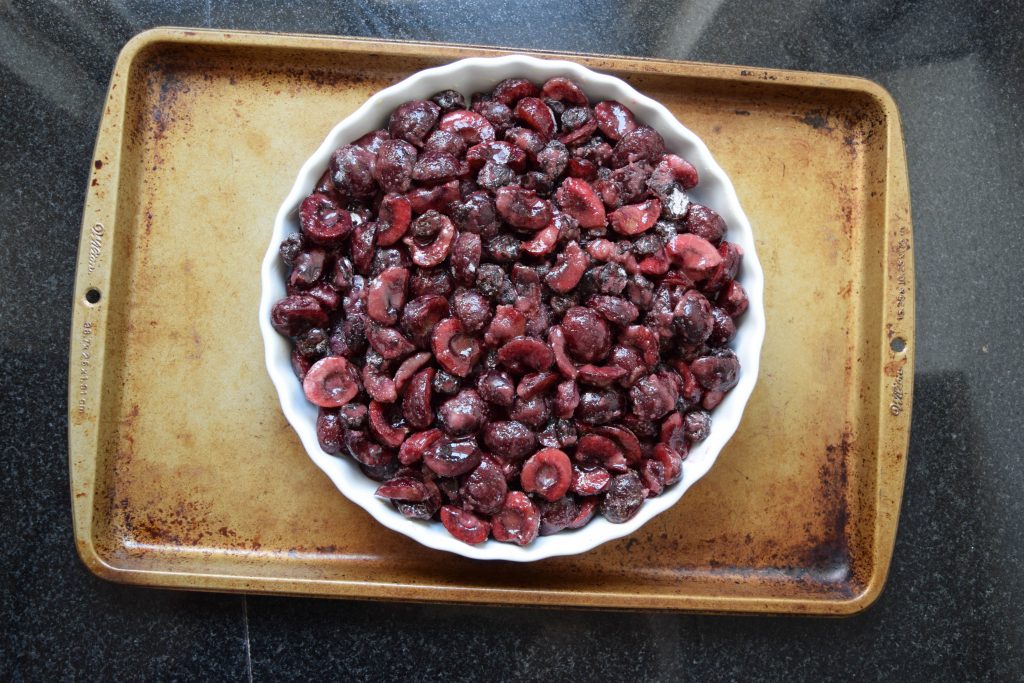 Put the cherry mixture into the prepared dish. For easy clean-up, set the baking pan on a cookie tray to catch any drippage.
Top the cherry mixture with the crumb topping. Transfer to the preheated oven.
Bake the crisp for an hour and 10 minutes until the crumb topping is golden brown and the cherries are bubbling.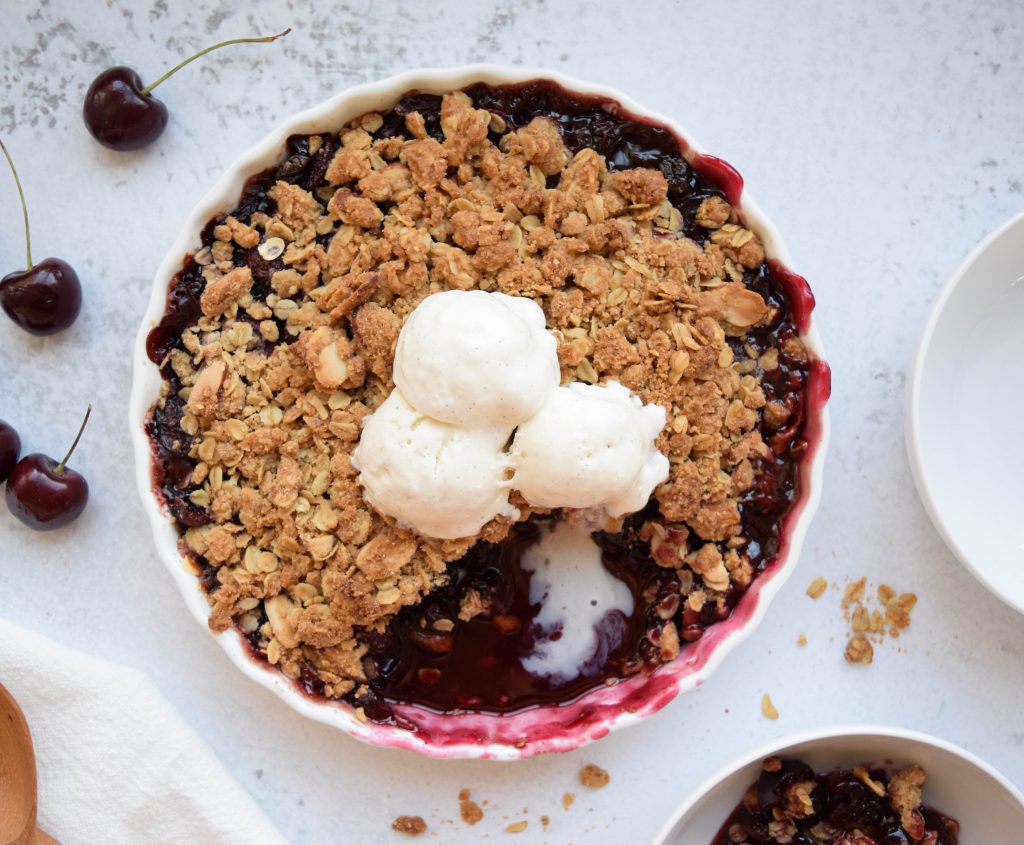 Let the crisp cool slightly before serving.
Crisp will stay fresh for 4 – 5 days in an airtight container in the fridge. It can be eaten cold, room temperature or reheated in the microwave.