Homemade ravioli might seem like a daunting task; but, with the help of a food processor this dish comes together in a snap. In fact, the pasta dough, butternut squash filling, and spinach pesto sauce are all made in a food processor in a matter of minutes with very little fuss. Use your Farmer Owned ingredients to make this elegant dinner and it'll be our little secret how easy it is.
Ingredients: 
Pasta:
2 1/4 cups of all purpose flour
1 teaspoon of salt
2 whole eggs
3 egg yolks
1 tablespoon of olive oil
2 – 3 tablespoons of water
Filling:
1 pound of butternut squash, cubed
1 cup of whole milk ricotta
1/2 cup of grated parmesan
2 cloves of garlic
2 tablespoons of olive oil
2 sprigs of thyme, leaves only
salt and pepper to taste
Pesto:
2 cups of baby spinach
1/2 cup of fresh basil
1/4 cup of walnuts
1 clove of garlic
juice of half a lemon
2 tablespoons of parmesan cheese
salt and pepper to taste
3 – 4 tablespoons of olive oil
Directions: 
To make the dough, place flour and salt into the bowl of a food processor. Pulse to mix.
Next add whole eggs, egg yolks, and water. Pulse until they are incorporated and the mixture resembles wet sand. With the processor running, stream in two to three tablespoons of water until the dough forms a ball. It will be very sticky.
Dump the dough out onto a generously floured surface. Knead five to ten times until the dough is smooth, elastic, and much less sticky. Wrap the dough in plastic and set aside to rise for one hour.
While the dough is resting, make the filling. Start by roasting the butternut squash. Toss it in two tablespoons of olive oil and season with salt and pepper. Place in a 400°F oven and roast for 40 – 45 minutes until the butternut squash is fork tender. Once cooked, remove from the oven and set aside to cool.
When the butternut squash is cool, place it in the bowl of a food processor with the ricotta, parmesan, garlic, and thyme. Season with salt and pepper. Blend until smooth. Transfer to a different bowl and set aside.
To make the pasta sheets, cut the dough into eight equal portions. You can roll them out by hand into a rectangle that is 1/8 inch in thickness or you can use a pasta maker and follow manufacturer's instructions. You should end up with eight rectangles that are 1/8 inch in thickness and about 10 – 12 inches in length.
Place tablespoons of filling along four of the pasta sheets (these will be the bottoms) leaving about an inch of room between each mound of filling. Paint the exposed pasta with egg wash and then top with one of the remaining pasta sheets. Repeat for three remaining bottom sheets.
Use a one inch round cookie cutter to cut your ravioli. Press around the edges with your fingers to make sure they are sealed. Cook the pasta in a large pot of boiling salted water. The pasta will take only a few minutes (about five to six) to cook. The best way to try the pasta for doneness is to taste one. The filling should be heated through and the pasta should be tender.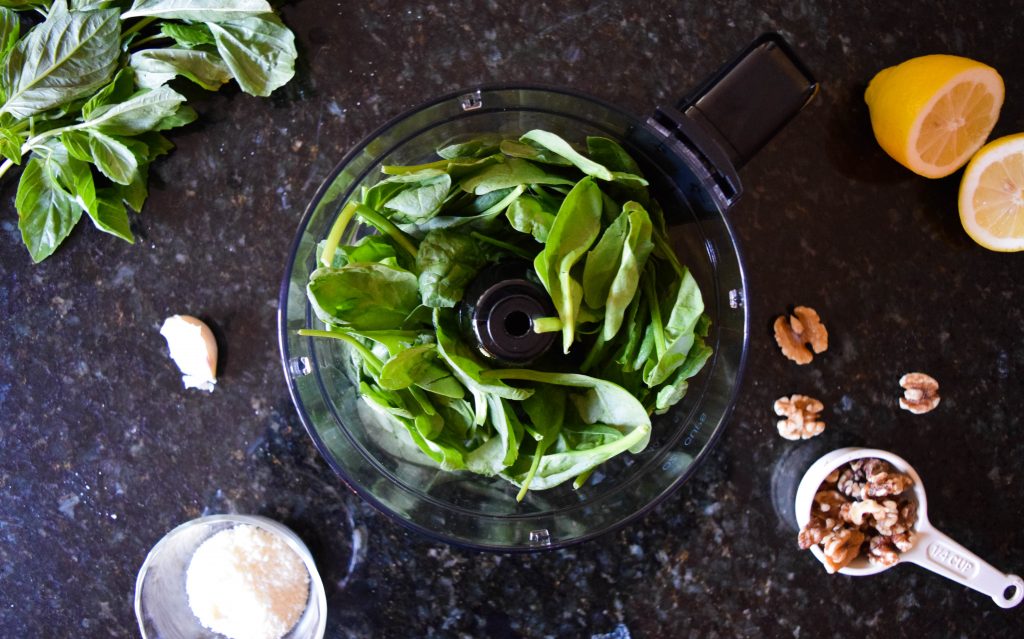 While the pasta cooks, make the pesto. Put spinach, basil, parmesan, walnuts, garlic, lemon juice, salt, and pepper into the food processor and pulse until smooth. With the machine running, drizzle in the oil until emulsified.
When you are ready to serve, place a few ravioli on your plate and drizzle with about a tablespoon of pesto and sprinkle with extra parmesan cheese. Enjoy!