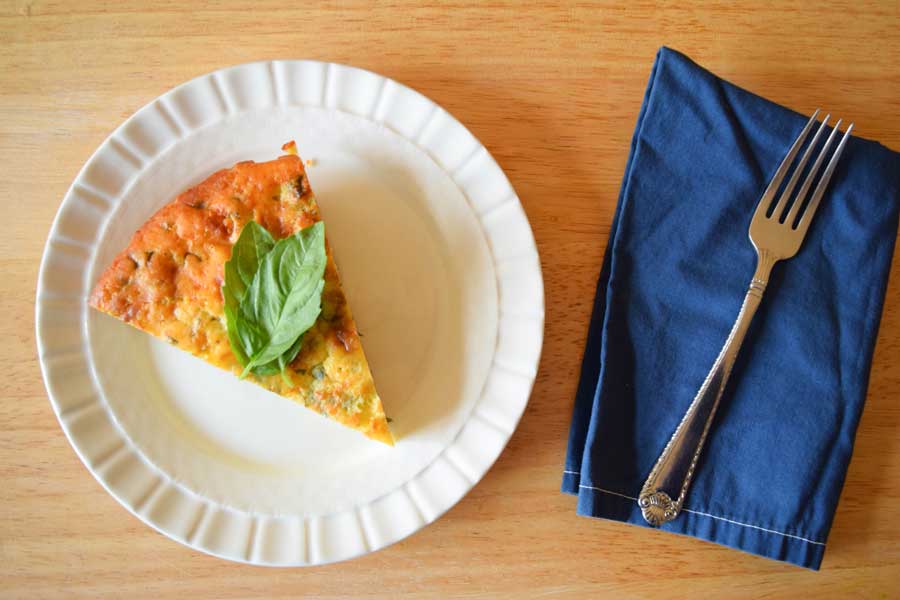 Every time I throw a brunch party the guests seem to proliferate. I'll start with a simple brunch for four and inevitably that number ends up doubling. I've found the key to staying sane in these situations is finding recipes that are easy to multiply.
Frittata is the perfect example. For each additional guest, I throw in an additional egg and sprinkle in a handful of extra ingredients. This frittata can be made the night before or, if you are waiting for a final head count, it can be thrown together the morning of. It is extremely simple, so delicious and it always impresses. Here's how I make it:
Ingredients
1 stick of unsalted butter
1/2 cup of thinly sliced yellow onion
2 cups peeled russet potatoes, cut into 1/2 inch cubes
10 extra large eggs
15 ounces of ricotta cheese
1 cup grated Gruyère cheese
1 cup chopped fresh basil
1/3 cup all-purpose flour
3/4 teaspoon baking powder
salt and pepper for seasoning.
Makes 8 to 10 Servings
For a list of farmer owned products and brands, click here.
Preheat the oven to 350 degrees.
 Melt 3 tablespoons of the butter in a 12-inch, non-stick, oven safe, saute pan, over medium low heat.
Add the sliced onion and cook for 2-3 minutes until they begin to soften slightly.
Add the diced potatoes and toss them with the butter and onions. Season the onions and potatoes generously with salt. Cook until the onions are translucent and the potatoes are cooked through. You can test the potatoes by inserting a sharp knife. If the knife goes in without any resistance then the potatoes are done.
Once cooked through and slightly browned, spread the onions and potatoes in an even layer over the bottom of the pan. Remove from the heat and set aside.
Meanwhile, whisk the eggs vigorously, breaking up any pockets of egg whites, until they are one smooth consistency. Season with salt and pepper. Add the ricotta and Gruyère cheeses and mix to combine.
Melt the remaining 5 tablespoons of butter and set aside to cool.
Add the chopped basil to the egg and cheese mixture.
Once the butter is cool, add it to the egg, cheese, and herb mixture.
Add in the flour and the baking powder. Stir well to make sure the dry ingredients are evenly distributed.
Pour the egg mixture over the onions and potatoes that were set aside. Transfer your pan to the preheated oven. Bake the frittata 45 minutes to an hour, rotating the pan halfway through, until cooked. The frittata should be browned around the edges and spring back to the touch.
Allow the frittata to cool slightly. You can serve the frittata right out of the pan or, using two spatulas, you can carefully transfer it to a cutting board and cut it into wedges. Top with a few basil leaves for garnish and serve while still warm.