Being Northern Irish, my family has shared many Irish recipes on our St. Patrick's Day table. My mom is famous for her Potato Bread and I am constantly asked for my raisin-studded Soda Bread recipe. Most have been in the family for years, passed down through generations. This year, in preparation for St. Patrick's Day, I decided to break with tradition and try something new, still Irish, but new. I made a chocolate Irish Whiskey Cake, drizzled with my favorite dark chocolate glaze. The cake has a rich chocolate flavor without being overly sweet and a unique punch of whiskey that you can't miss. It might not be an heirloom but I think my Irish ancestors would be impressed. My friends and family sure were! Make one today, using your Farmer Owned ingredients, and watch it disappear!
Ingredients:
1 cup of all purpose flour
3/4 cup of cake flour
1/2 cup of unsweetened cocoa powder
1/2 teaspoon of baking soda
1/4 teaspoon of salt
1/2 cup of whole milk
1/2 cup of Irish whiskey
1 tablespoon of vanilla extract
1/4 cup of brewed coffee
2 sticks, plus one tablespoon of unsalted butter
1 3/4 cup of light brown sugar
3 large eggs
4 ounces of dark chocolate, chopped and melted
For the Glaze:
3/4 cup of dark chocolate chips
3 tablespoons of unsalted butter
1 tablespoon of light corn syrup
1/2 teaspoon of Irish whiskey
Directions: 
Mix together the flours, cocoa powder, baking soda, and salt in a medium bowl. Set aside.
In the bowl of a stand mixer, cream together two sticks of butter and the brown sugar.
While the butter and sugar is creaming, mix together the milk, coffee, whiskey, and vanilla. Set aside.
Once the butter and sugar mixture is light and fluffy, add the eggs one at a time, blending completely after each addition.
After the final egg is incorporated, add the melted chocolate and mix to combine.
Add one third of the dry ingredients to the batter.
Follow the dry with one half of the wet ingredients. Next, add the remainder of the dry and wet ingredients in alternating order, ending with dry.
Preheat your oven to 325°F.
Melt the remaining tablespoon of butter and use a pastry brush to grease the inside of your bundt pan. Fill with batter. Place the pan into the preheated oven and bake for 60 – 65 minutes until an inserted toothpick comes out clean.
Let the cake cool for 20 minutes in the bundt pan before flipping out onto a cooling rack and cooling completely.
While the cake cools make the glaze. Put all glaze ingredients, except the whiskey, into a heatproof bowl. Set the bowl over a small saucepan of simmering water. Stir the chocolate, butter, and corn syrup together until the chocolate is fully melted and the butter and corn syrup are completely incorporated. Remove the glaze from the heat and stir in the whiskey.
Pour glaze over the cooled cake and let set for 20 minutes before slicing and serving.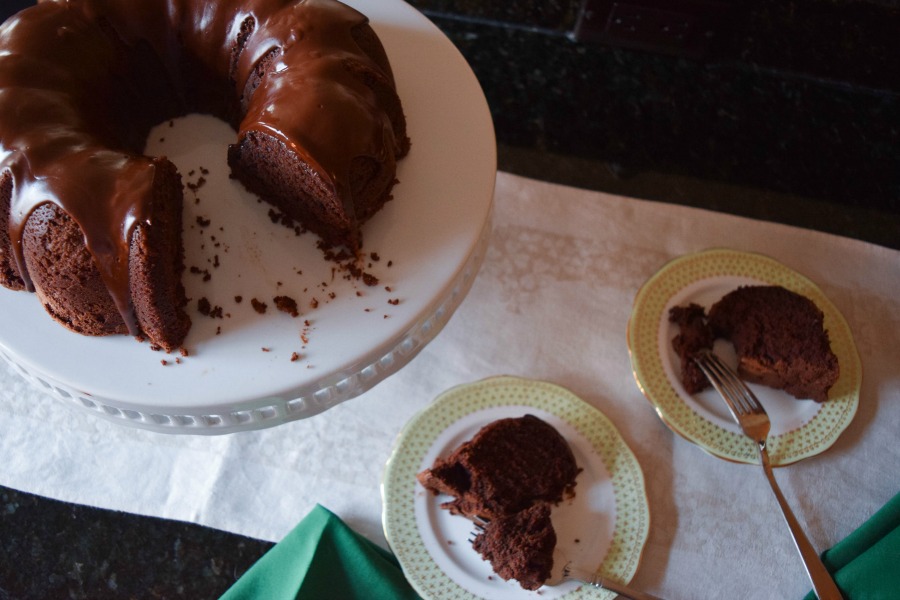 Enjoy!