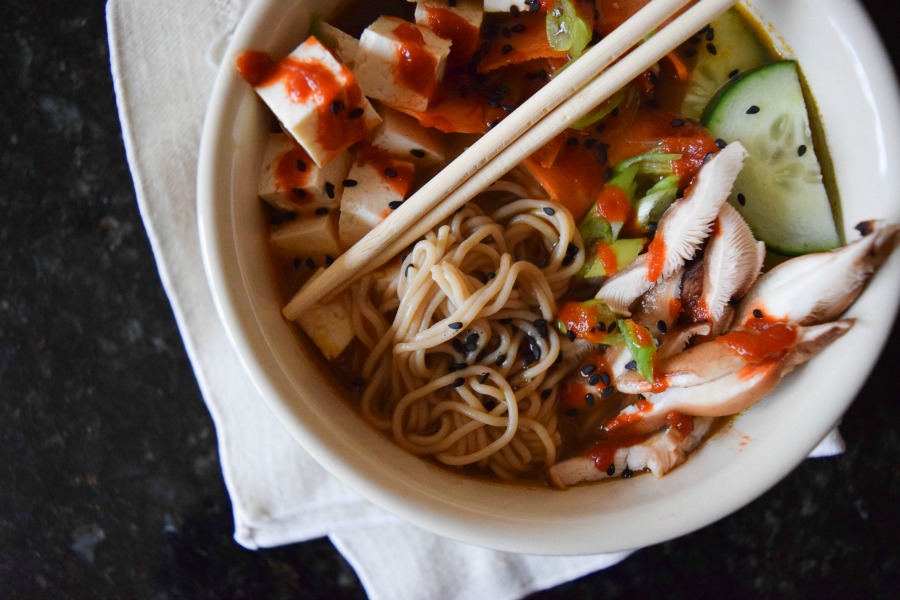 This homemade ramen is my go-to when I need something warm and soothing. Making the broth is so easy with just a few ingredients and then you can customize your bowl with any toppings you like. Have a meat lover in your crew? This simple dish also can be made with chicken or beef stock and topped with any protein of your choice. Make some today using your Farmer Owned ingredients.
Ingredients:
1 medium onion
1 clove of garlic
1 inch piece of fresh ginger, peeled
1/2 cup of dried shiitake mushrooms
2 tablespoons of vegetable oil
4 cups of vegetable stock (or beef or chicken)
1 package of ramen noodles
salt and pepper
Topping suggestions:
firm tofu, cubed
shiitake mushrooms, thinly sliced
scallions, thinly sliced
cucumber, thinly sliced
carrots, thinly sliced
chili sauce
sesame seeds
Directions: 
To make the broth, slice the onions, chop the garlic and the ginger.
Add the oil to a large sauce pot over medium flame. Add the sliced onions and sauté until soft and translucent, about 5 to 6 minutes.
Add the garlic and the ginger to the onions and cook until fragrant, stirring frequently, about 2 to 3 additional minutes.
Add the vegetable stock, bring to a boil and then reduce to a simmer. Cook over medium-low flame for at least 1 hour, up to 3 hours. The longer it cooks the richer the broth is.
30 minutes before you are ready to serve add the dried mushrooms and prepare the toppings.
Once the mushrooms have simmered for 30 minutes, strain the stock, discard the mushrooms, onion, ginger and garlic. Return the broth to the sauce pan and bring to a boil. Season with salt and pepper. Add the ramen noodles and cook according to package instructions.
Once the noodles are cooked, divide the soup and noodles between four bowls and top with whatever garnishes you chose.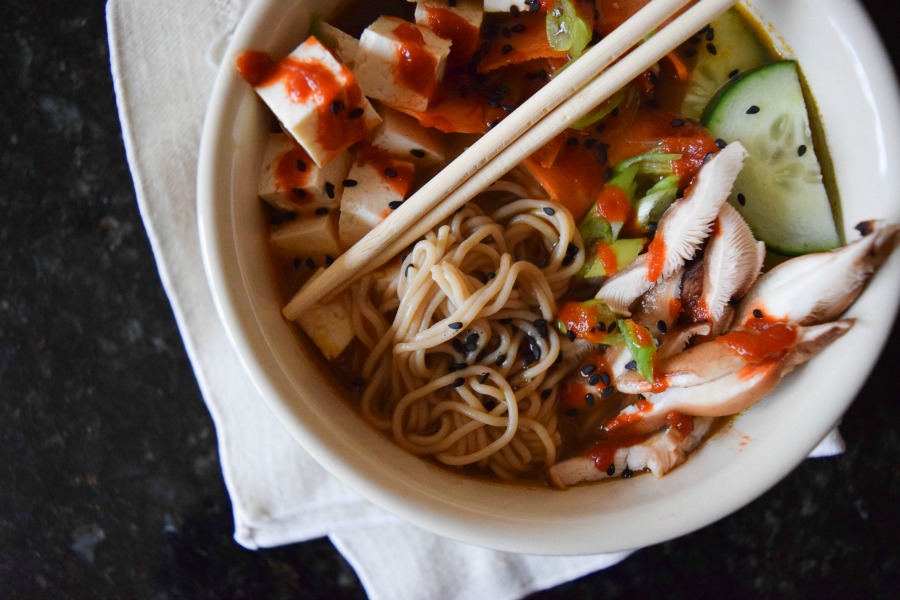 Serve immediately!