Bath Buns are a favorite treat I discovered on a recent trip to the UK and had to re-create. The pillow-like dough is studded with sultanas, more commonly known in America as raisins, and brushed with a sugar glaze for an attractive and tasty sheen. On the top, crushed sugar chunks add a nice crunch to an otherwise soft bun. The delicate sweetness of these buns makes them an excellent breakfast and ideal tea snack. Though, they work nicely as a dessert too. Whip up a batch today using your Farmer Owned Ingredients and bring a little bit of Britain to your baking.
Yield: Makes 12 buns
Time: 2 hours and 20 minutes (includes rising and baking)
Ingredients:
Base:
1 cup plus 2 teaspoons of all purpose flour
1 teaspoon of granulated sugar
2 teaspoons of active dry yeast
5/8 a cup of milk, warmed to 110°F
5/8 a cup of water, warmed to 110°F
For the dough:
2 cups plus 2 teaspoons of all-purpose flour
3 tablespoons of cold butter, diced
2 eggs
5/8 cup of sugar
1 cup of raisins
For the egg wash:
1 egg
1 teaspoon of granulated sugar
1 tablespoon of water
1/4 a cup of sugar cubes, crushed
Directions:
Measure out all ingredients, grouping them by the headings listed above. Line two large cookie trays with parchment.
First, make the base. Place base ingredients (flour, sugar, yeast, warm milk and warm water) in a large bowl and combine. Set this mixture aside in a warm place for 20 minutes to allow the yeast to activate.
While waiting for the yeast to froth, prepare the dry dough ingredients. Place the flour and cold butter into the bowl of a food processor. Pulse until the butter is the size of bread crumbs. Set aside. In a separate bowl, beat the two eggs until the yolks are completely incorporated into the whites.
After 20 minutes, the base will be frothy.
Add all of the dough elements to the base and mix with a wooden spoon or spatula to combine.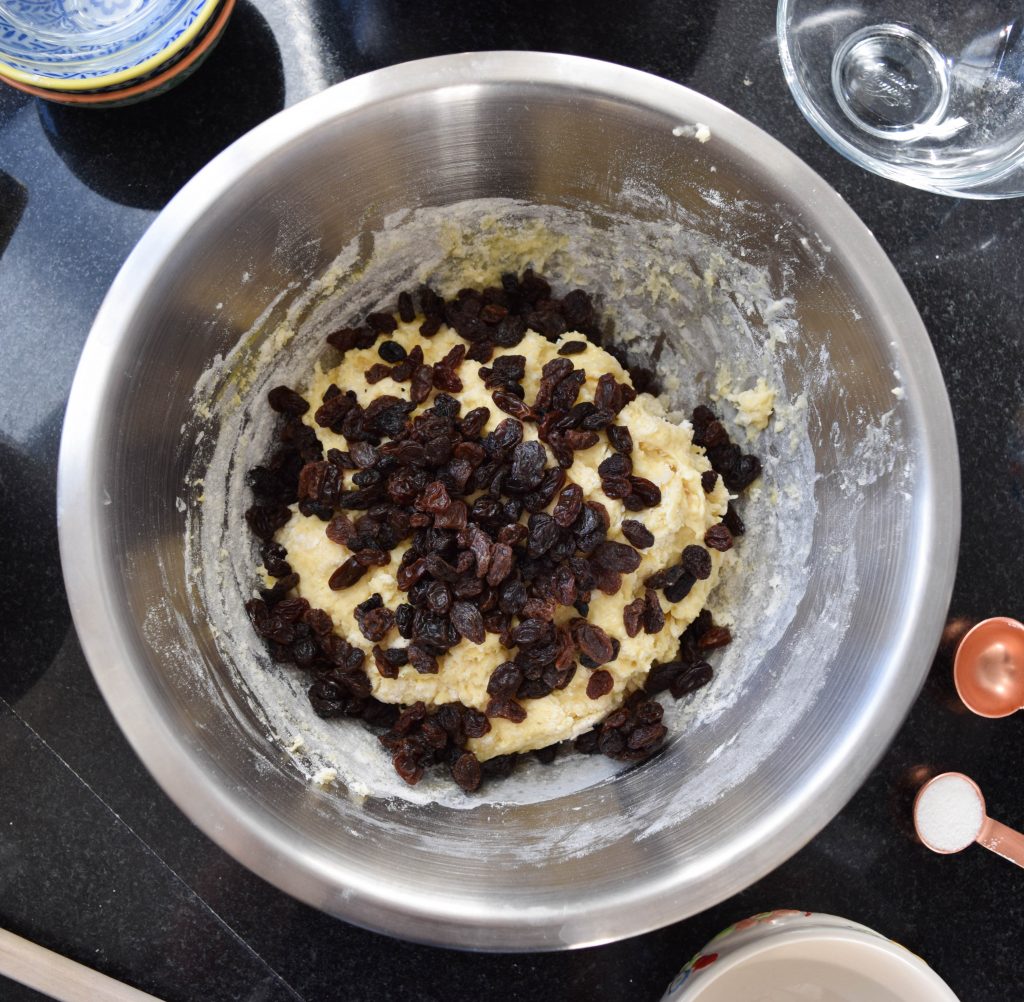 Fold in the raisins.
Turn the bun dough out onto a generously floured surface.
Knead the bun dough 10 to 15 times until it is smooth and elastic. Place the dough in a lightly oiled bowl, cover with plastic and place in a warm spot. Let rise for one and a half hours or until doubled in size.
Once doubled, turn the dough out onto a floured surface and knead a few times.
Divide the dough into 12, three ounce portions. Roll each piece against the counter with one hand to make a ball.
Place six dough balls on each of the parchment-lined cookie trays. Cover them with plastic wrap and set in a warm place to rise for 30 minutes. Preheat your oven to 425°F.
In a small bowl, whisk together the all of the egg wash ingredients, except for the crushed sugar cubes. Use a pastry brush to glaze the buns with a light coat of egg wash.
Sprinkle the top of each bun with the crushed sugar.
Place the buns in the preheated oven and bake for 15 to 20 minutes. For even browning, rotate the pans halfway through the bake time. When golden brown, remove the buns from the oven and serve immediately.
Pour yourself a cup of hot tea and enjoy! Buns will stay good for up to a week if stored in an airtight container. They can be reheated in a 350°F oven for five to eight minutes. They are best served warm!