I lovingly refer to this cake as the "cupboard cake" because it is made of ingredients I always have stocked in my kitchen. In addition to flour, sugar and other cake basics, I always seem to have some applesauce on hand as a quick and healthy snack. I jazz up this simple cake with the easiest homemade apple caramel and decorate with sliced almonds for a beautiful presentation. It's a great way to use your farmer owned ingredients and make a dessert that is sure to please.
Applesauce Almond Cake
Serves 6-8
Ingredients
1 ½ cups of all-purpose flour
1 teaspoon of baking soda
½ teaspoon of salt
1 teaspoon of ground cinnamon
1 stick of unsalted butter, at room temperature
1 cup of light brown sugar
2 tablespoons of honey
1 large egg
1 cup of unsweetened applesauce
1 cup of slivered, blanched almonds
For the caramel
1 cup of sugar
¼ cup of apple juice
1 ½ teaspoons of light corn syrup
1 cup of heavy cream
½ tablespoon of butter
¼ teaspoon of salt
1 cup of sliced almonds (for garnish)
Directions
Preheat the oven to 350?F.
Grease an eight-inch cake pan. Place a round of parchment paper in the bottom of the pan. Grease and flour the parchments and sides of the cake pan.
In a small bowl, whisk together the flour, baking soda, salt and cinnamon. Set aside.
In the bowl of an electric mixer, cream together the butter, sugar and honey, until fluffy for 3-5 minutes.
Next, add the egg.
Gradually add the flour mixture.
Beat in the applesauce.
Fold in the slivered almonds.
Pour the batter into the prepared pan and transfer to the oven.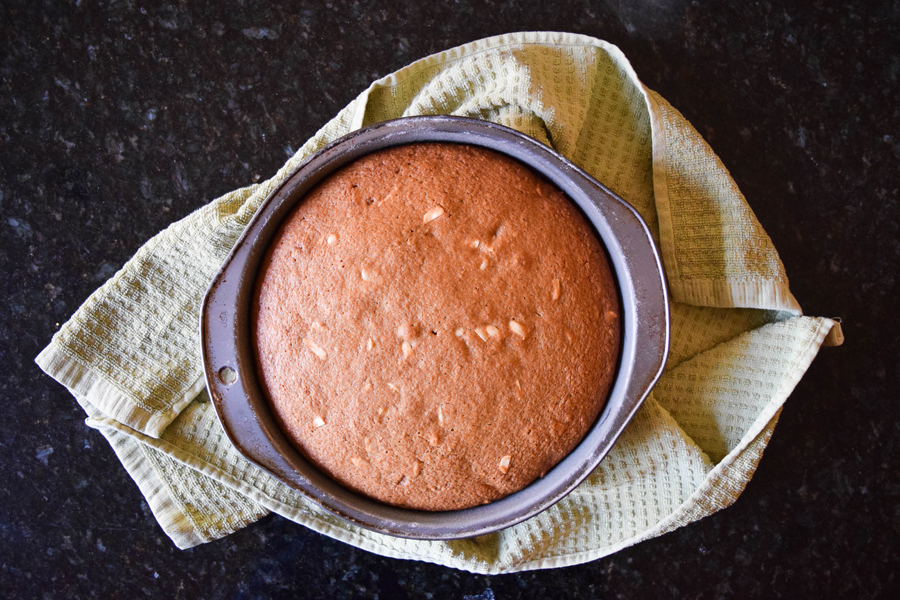 Bake the cake for 30 – 40 minutes, check at 30. To test for doneness, insert a toothpick. If it comes out clean, the cake is finished baking.
Now, let's make the caramel!
Place the sugar, apple juice, and corn syrup in a small saucepan over medium to low heat.
Cook until the sugar has dissolved and the mixture is bubbling. Do not stir, but you can swirl the pan.
Continue to cook the sugar mixture until it turns a light amber color. This will happen quickly.
Add the butter and cream. Whisk until the cream is fully incorporated.
Cook on medium heat for another 5 minutes to thicken the caramel sauce.
Turn off the heat and transfer the caramel to a heatproof bowl. Place in the refrigerator and chill for 20 – 30 minutes to thicken more.
Once the cake is cooled. Remove from pan and place on a serving plate. Pour caramel on top and sprinkle with sliced almonds.
Serve immediately and enjoy!