---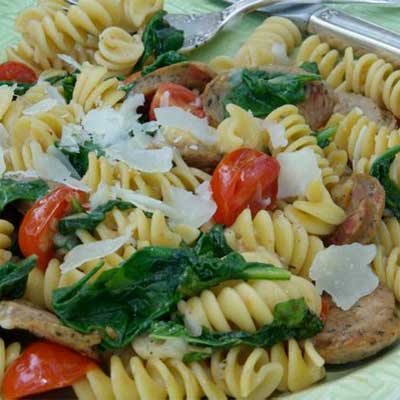 Prep Time

Cook Time

Ready In

Servings
4
Ingredients
8 ounces whole-wheat or high-protein short pasta, such as shells, rigatoni, or rotini
1 tablespoon extra-virgin olive oil
12 ounces fully cooked Italian chicken sausage, cut into 1/4-inch diagonal slices*
3 garlic cloves, minced
5 ounces (about 6 cups) arugula
2 cups cherry or grape tomatoes, cut in half
1/2 cup shredded Parmesan cheese
1/2 teaspoon salt
1/2 teaspoon freshly ground black pepper
Shaved Parmesan
Directions
Bring a large pot of salted water to a boil. Add the pasta and cook until just tender; drain, reserving 1/2 cup of the cooking liquid.
Heat the olive oil in a large skillet over medium-high heat. Add the sausage slices and brown well on both sides.
Stir in the garlic, arugula, and tomatoes. Cook for 3 minutes or until the arugula wilts and the tomatoes just begin to break down, stirring often.
Remove from the heat. Combine the cheese, salt, pepper, and reserved pasta water in a large serving bowl.
Add the pasta and arugula mixture and toss to combine. Serve with shaved Parmesan, if desired.
*Uncooked Italian chicken or turkey sausage may be substituted. Remove from the casings and brown the sausage in a skillet, stirring until crumbly. Drain well before proceeding with the recipe.