---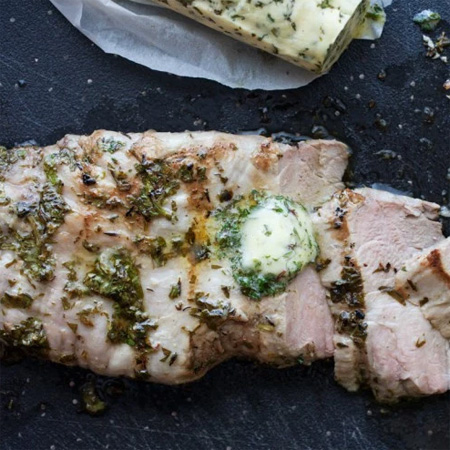 Prep Time
20 min
Cook Time
15 min
Ready In
8 hrs 35 min
Servings
4 - 6
Ingredients
GRILLED PORK
1 (2- to 3-pound) boneless pork loin roast, butterflied
1/2 cup olive oil
1/4 cup fresh lime juice
1/4 cup finely chopped fresh cilantro
2 tablespoons chopped fresh thyme
1 tablespoon minced fresh ginger
1 1/2 teaspoons grated lime zest
CILANTRO-THYME BUTTER
1/2 cup (1 stick) butter, softened
Zest of 1 lime
3 tablespoons finely chopped fresh cilantro
1 tablespoon finely chopped fresh thyme
1/8 teaspoon white pepper
Directions
Place butterflied pork between 2 sheets wax paper or plastic wrap and pound until even in thickness, using a meat mallet or rolling pin. Remove from wax paper or plastic wrap and place in a 9 x 13-inch baking dish.
For the marinade, combine olive oil, lime juice, cilantro, thyme, ginger, and lime zest in a small bowl and mix well. Pour over pork. Cover and marinate in refrigerator for 8 hours or overnight.
For cilantro-thyme butter, combine butter, lime zest, cilantro, thyme, and white pepper in a small bowl and mix well. Place butter mixture on waxed paper, roll into a 1-inch diameter log, and twist ends to seal. Chill for at least 2 hours.
When ready to cook, remove pork from marinade. Pour marinade into a small pan and bring to a boil, stirring constantly. Remove from heat.
Grill pork over medium coals (or at 350 degrees F on a gas grill) for 10 to 15 minutes per each side, or until internal temperature reaches 160 degrees. Baste pork frequently with marinade while cooking.
Transfer pork to a cutting board. Let it rest, covered, for 5 minutes before slicing.
Serve with cilantro-thyme butter.
Recipe Info
Cilantro plays a large part in Mexican, Caribbean, and Asian cuisines. Read more about cilantro from Bonnie Plants.